Preserving Japanese Craft Culture in the V&A Toshiba Gallery by Tanya Bentley, Ralph Day, Natalia Goldchteine, Isak Fallgren
From a gallery presentation in the Toshiba Gallery of Japanese Art, V&A, for the Everyday in Modern Asia module in May 2016.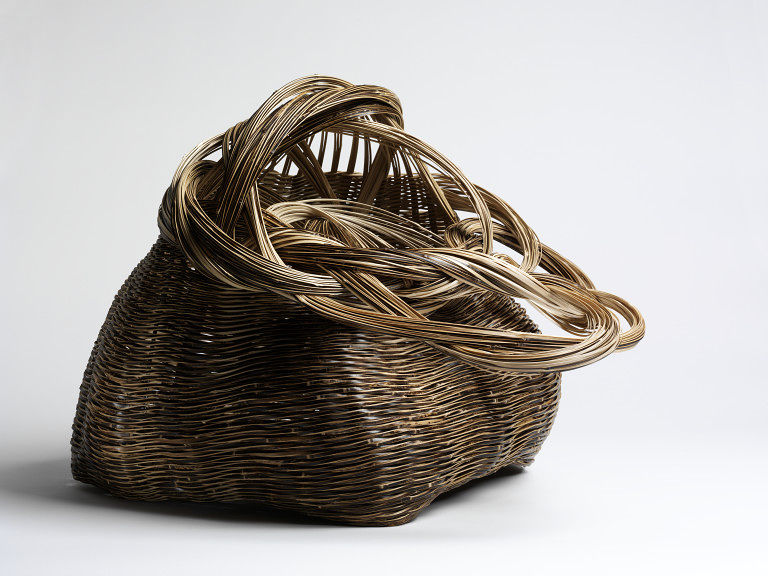 In this article, we explore how the Everyday is articulated through the display of a number of objects in the V&A Toshiba Gallery of Japanese Art. We also examine the traditions of skill and making and the importance of organic materials for contemporary Japanese design.
The Modern and Contemporary section of the Toshiba Gallery brings together a number of twentieth- and twenty-first- century objects under the umbrella of 'Craft Design.' The interpretative text for this display aligns these objects with a post-WWII drive in Japan to set up 'modern' craft design practices. This called for mass-manufactured, factory-produced objects that would be designed and crafted with the skill and care typical of small studios and with the use of traditional techniques. The guiding principles for this design drive, which were advocated by the Japan Craft Design Association (established in 1956), were affordability, originality, and 'sensitivity to the requirements of modern life.'
Alongside a black lacquer and hemp tray designed in 2009 by contemporary Japanese designer, Kenji Toki (b.1961), which is modelled on the disposable packaging for mangoes used by UK supermarket Sainsbury's, the Craft Design display houses a porcelain 'Crinkle series' vase in the form of a paper bag, designed in 1975 by Makoto Komatsu. These fairly expensive and sturdy designed objects make playful reference to cheaper, less durable, and more likely disposable traces of everyday life (a polystyrene tray, and a paper bag, respectively).
Indeed, Toki and Komatsu make ornaments out of objects which are almost not there. They fix, harden, and exhibit the otherwise fleeting everyday. At the same time these ornaments have their place in the everyday lives of consumers across the globe: vases from Komatsu's Crinkle series, for example, are still in production. At the Museum of Modern Art in New York, they figure in the permanent collection as well as in the online store (where a Crinkle Bag Vase can be purchased for $120).
A shared concern amongst contemporary Japanese craftsmen, such as those exhibited in the Toshiba Gallery, is how to maintain the use of craft tradition in a fast-paced machine world. In response to this, Japanese craftsmen, such as the aforementioned Kenji Toki and Seihachi Tanaka, have made attempts to ensure its preservation through hybrid techniques that fuse digital fabrication and technology with artisanship and traditional craft materials such as Urushi lacquer and Hinoki (Japanese cypress). The Toshiba Gallery seems keen to promote this message too by displaying historical pieces alongside modern and contemporary objects.
Another approach to the preservation of craft tradition is the elevation of craft objects to art pieces. Tanabe Shochiku (b. 1973), a fourth-generation head of a family of basket makers based in Sakai, near Osaka, having trained both as a sculptor and a basket weaver, creates sculptural pieces out of bamboo using traditional weaving techniques. The Toshiba Gallery holds one such piece – the 'Aun II' sculpture. The lower section of the piece has a traditional basket form but closer to the top the weave becomes freer, assuming wave-like forms and spilling out of the boundaries of the basket's sides.
Traditionally, Japanese basket weaving products had a primarily utilitarian function. Such objects were used for the carrying and processing of food, for farming, fishing, mining and storage. The use of such baskets may be seen for example, in a print by Katsushika Hokusai (1760-1849) that shows a group of men, women and children gathering shellfish from a stream using woven bamboo baskets.
Since the middle of the twentieth century there has been a decline in bamboo basket making. This is largely related to the emergence of substitute plastic and vinyl products from the mid-fifties. These new products could be manufactured more cheaply and in larger quantities, causing a significant drop in the number of craftsmen using traditional bamboo techniques. With competition from modern technologies such a transference of the craft, from a utilitarian to an artistic form, as practised by Shochiku and other contemporary Japanese craftsmen mentioned above, may help to preserve historic craft skills.