By Philippa Duployen, Jihane Dyer, Anna Stewart and Katharine Vann
From a gallery presentation in the Toshiba Gallery of Japanese Art, V&A, for the Everyday in Modern Asia module in May 2016.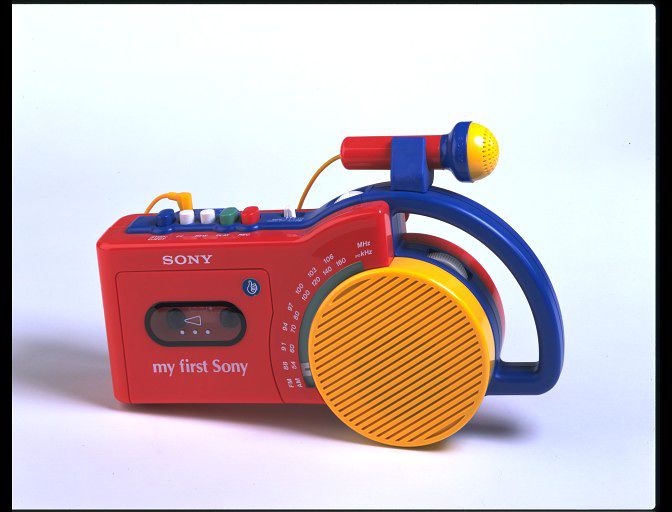 Taking part in the Everyday In Modern Asia workshop as part of the V&A/RCA History of Design MA programme, our brief was to think about how an object in the Asia Galleries could be redisplayed to show its everyday history. We chose My First Sony, an object in from the Toshiba Gallery of Japanese Art.
My First Sony is a cassette tape-recorder aimed at children. It was launched in 1988, and was ultimately part of a range created by Sony to introduce electronics to children at an early age. It is an everyday item and one produced from a careful design process. It is made of non-toxic plastic and the corners are rounded so there are no sharp edges. It is non-gendered; designers studied popular toys and decided on a primary colour coded scheme, with a universal appeal for children. The product features clear panels that reveal internal mechanisms and large buttons that are easy to press for little fingers, which also make a satisfying click sound.
My First Sony is displayed alongside three other Sony products in the V&A Museum, which include the Portable Transistor Radio (1958), the Credit Card Radio (1992) and the portable stereo Stowaway TPS L2 (1979). Having My First Sony placed alongside other Sony products links the brand to the everyday. The V&A's display shows that Sony is a brand that is both well established and familiar, as well as used by people of different ages. All of these products are portable and could be used within the home and in the outside world.
It is striking that My First Sony is not displayed in the V&A Museum of Childhood, since it was primarily intended for children. Discovering that My First Sony was not marketed as a child's toy but instead as an electronics product explains why it is displayed at the V&A. Sony's Division President, Thomas A. Harvey, spoke about the design process in 1988. He suggested that Sony did not want to be in the toy business but was more concerned with making adult-quality electronics for children. The designers chose not to use cartoon characters or gimmicks, but wanted to create electronics that could stand the test of time.
It is also interesting to point out that the object is displayed in the Japan gallery, despite having only been manufactured in Japan and designed in America by an America in Sony's San Francisco Office. Only at the end of 1988 did Sony expand sales to key electronic retailers in Europe and Japan.
If My First Sony were to be redisplayed, it would be useful to show how the object was actually used, so that the visitor could gain a better understanding of it's function and impact upon the consumer market. Displaying sound recordings made by original users of My First Sony would add an interactive element whereby visitors could hear what children did with the object. Advertisements (including the television commercial) could also be displayed alongside it, along with its original packaging. Cassettes made by Sony to accompany My First Sony would be useful to display to show how the company diversified into other ranges. To add further interaction, a separate My First Sony could be displayed alongside the case where people would be able to test out the object through handling it and recording on the cassette player.
The workshop gave us an opportunity to think about the challenges of displaying everyday objects in Museums. Removing objects from their contexts of use, we run the danger of black-boxing technologies. Standing quiet in its case, My First Sony might lose its function as a cassette recorder and become a static symbol of bygone modernity.
Bibliography:
Alden, J. and Phelps, N. F., Foreign Direct Investment and the Global Economy, 1st edn (Routeledge: Abingdon, 2002), p.115
Harvey, Thomas, 'How Sony Corporation became first with kids', Doing Cultural Studies: The Story of the Sony Walkman, ed. By du Gay, P., Hall, S. and Anders, L. J., 1st edn (SAGE: New York, 1996), pp. 133-134